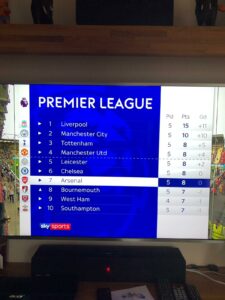 A run of results going West Ham's way means the Hammers could jump up into third place tomorrow should they beat Aston Villa.
West Ham currently sits in ninth place in the Premier League table on seven points behind Bournemouth, Arsenal, Leicester City, Manchester United, Spurs, Manchester City and Liverpool. Should the Hammers earn all three points they would be on the same points as Man City on ten points who lost yesterday to Norwich City.
Watford held Arsenal today 2-2 while Manchester United overcame Leciester Yesterday with Spurs, Chelsea and Bournemouth winning over the weekend.
While a Champions League place at the end of the season is still a pipe dream, a temporary rise to a top three plus a very winnable game playing Manchester United at the London Stadium next week must raise the confidence of Manuel Pellegrini and his first-team squad.
Of course, the West Ham way means we are almost guaranteed to lose tomorrow but maybe this is our season to luck that trend.