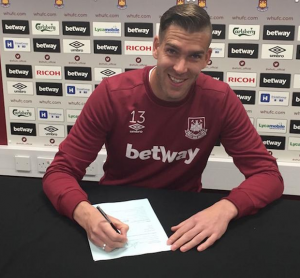 West Ham will press on with Adrian as their No 1 keeper in the 2017/18 season and see signing a new  new stopper as a lesser priority!
The club had been linked with the likes of Joe Hart and Jordan Pickford but neither is likely to become available with such as Liverpool, Arsenal and Manchester United circling.
But after the Spaniard signed a new two year deal with the club, the Irons believe that Adrian is the man.
The Hammers will continue to look at the position but the 30 year old will be given the opportunity to re-establish himself during the new season.
The club are set unveil Pablo Zabaletta as a priority signing over the next few days and the club will then concentrate on bringing in a striker or preferably two.
We were told: "We are in the improvement business and were a top goalkeeper to come along then we would have to be interested but as things stand the priority signing is a striker and that's what we are concentrating upon.