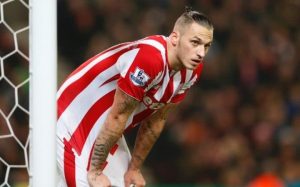 There's no room for over excitement but I would suggest the pursuit of Marko Arnautović may be going in West Ham's direction.
I base that on the opening comments between the Potters chairman Peter Coates who seemed interested in leaving a door half open when talking about the Hammers bid.
It was hardly the sort of stuff chairmen and managers normally come out with when they receive what is all too often called a "derisory bid" despite millions and millions being involved!
The Bet365 owner said: ""We have received a bid from West Ham for Marko and it was turned down. Mark (Hughes) is planning to meet with the player and hopefully he can find a positive resolution, as he did last year. We will only sell Marko if the terms are right but he's not a player we want to lose."
So he "hopes" a solution can be found despite a transfer request and will sell "if the terms are right!"
In the meantime Arnautović was injured in a pre-season friendly last night which the cynical among us probably describing that as  "convenient" and the more trusting as "unfortunate."
Meanwhile, the wideman's transfer valuation with the respected website transfermarkt is £12 million so the Hammers opening bid at a reported £15 million seems about right despite Stoke wanting closer to £20 million.
This one has a way to run.