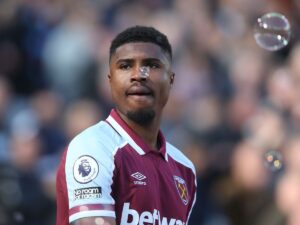 By Hughie Southon
West Ham are looking to start new contract talks with academy product Ben Johnson over the next few weeks.
The two sides have been unable to agree terms during discussions this year, but David Moyes and the board will hope to persuade the right back to finally put pen to paper by the festive season.
With the Qatar event about to get underway, this is seen as a good opportunity to start negotiations and the club will continue into the Christmas period and beyond in their bid to get the deal settled.
The 22-year old's contract expires in 2024 and the club are looking to agree a new four-year deal with him and his advisors.
However, we understand talks have been particularly tough with his representatives CAA Base Ltd driving a hard position.
Moyes wants to keep the player who has proved himself able to play on the right and left side and in central defence as an emergency if required.