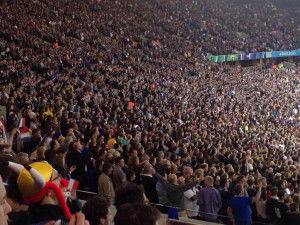 West Ham have the third highest average attendance in the Premier League this season with 57,904 tickets sold on average for each game and that could soon improve.
1st Man Utd: 74,503 2nd Arsenal: 59,888 3rd West Ham: 57,904 4th Man City: 54,120 5th Liverpool: 52,899 6th Tottenham: 52,584 7th Newcastle: 50,936 8th Chelsea: 40,531 9th Everton: 38,982 10th Leicester: 31,823
With the increase in capacity at the London Stadium to 60,000 this January, the average attendance is likely to increase further next season.
Official attendances since the capacity increase have been Brighton 59,870 Arsenal 59,946 Liverpool 59,903 Fulham 59,950 Newcastle 59,910 and Huddlesfield 59,931.
At that rate, the average attendance since January in Premier League games is 59,918 which enough to leapfrog Arsenal into second place in the Premier League attendance table.
We all know that Official attendances are the number of tickets sold and not the real attendances but it is the only metric published by all Premier League clubs and all clubs have an element of non-attendance from season ticket holders.