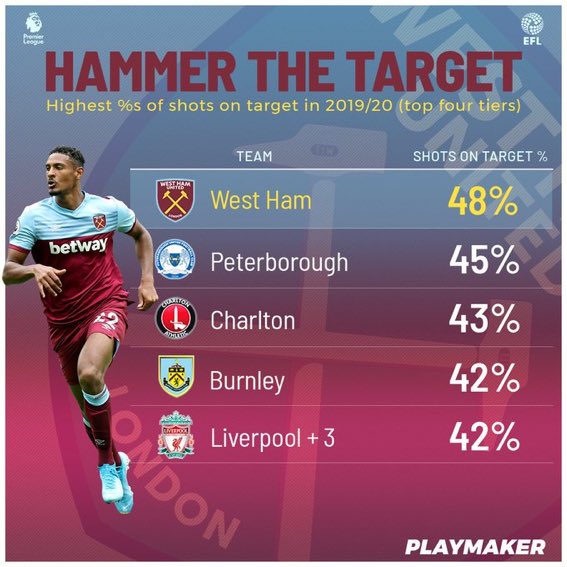 West Ham have the highest percentage of shots on target in the top four tiers of English football.
The Hammers led the way with 48% of their shots on target with Peterborough second on 45% and Charlon third on 43%.
In fourth place is Burnley with 42% while Liverpool is fifth at 42%.
In other Premier League statistics of the season to date, West Ham has had 301 shots this season of which 145 have been on target resulting in 35 league goals at a rate of 1.21 goals per game.
Hammers players have made 11,608 passes around 400 passes per match with a pass accuracy of 76%
There have been 558 crosses with an accuracy of 24%
West Ham have kept 6 clean sheets but conceded 50 goals at a rate of 1.72 goals per match
The Hammers have made 103 saves, made 547 tackles, blocked 62 shots, made 330 inceptions and 573 clearances
In the discipline stakes, West Ham have earned 53 yellow cards, 2 red cards and have made 171 fouls while being offside a total of 59 times