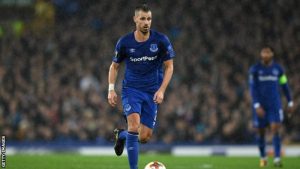 West Ham has been linked once again with a late bid for Morgan Schneiderlin and Sky claim the Hammers are ready to pay £20 million for the Everton man.  The midfielder was strongly linked with West Ham at the beginning of the transfer window but with Sakho's exit and a chance Andre Ayew could soon join the ranks of former Hammers the speculation has been reignited.
Alternative reports suggest West Ham only want to sign Schneiderlin on loan. Everton are said to be willing to part with the 28-year-old before Wednesday's transfer deadline, a year after signing him from Manchester United in a £24m deal. But they would prefer to recoup £20m in cash, and are reluctant to do loan deals that will not carry any certainty of a return.
They feel it would be better to assess Schneiderlin over the remainder of the season before deciding whether to spend such a significant sum on the former Southampton player.