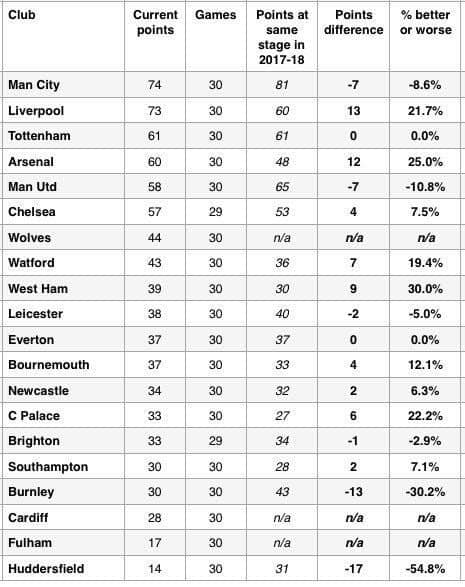 It's been the trickiest of seasons to understand but few would doubt that by and large there has been an improvement in the Hammers set up.
How much has been another  question but a member of the ClaretandHugh Facebook Group @https://www.facebook.com/groups/363174467150521/ has come up with a chart which claims to show that it has been pretty substantial.
Sadly the source of the table is unknown but such is the detail shown that it certainly appears to be genuine and  show every club 's performance comparison between last season and this at the 30 game mark.
 Most show a small percentage either way with Huddersfield, as an example, making a significant drop of around 40 per cent.
The biggest improvers are the Irons with a very impressive  30 per cent  with 9 points more than at the same point  last season.
We can see no reason to disbelieve the figures and as probably most would agree, we re  going in the right direction under Mr Pellegrini