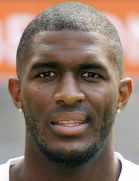 West Ham United are being reported as holding an interest in signing former Blackburn Rovers striker Anthony Modeste this summer.
However, the simple fact remains that the club's priority targets at this stage continue to be Michy Batashuayi and Jermain Defoe.
Whilst admitting that Modeste -who made nine Premier League appearances for Blackburn  in 2011-12 – has been scouted by the club, a Hammers insider said: "Let's not read too much into that because we are watching any number of players every week of the year and he's on a long deal.
Modeste has netted 22 Bundesliga goals in 26 outings for Koln this season, making him the division's top goalscorer but the club tied him down to a new five year deal last year so a move looks hugely unlikely.
The Hammers are keen on last summer's target Batshuayi along with Defoe whom they plan to take a very lose look at in the match at Sunderland between the two sides next weekend.