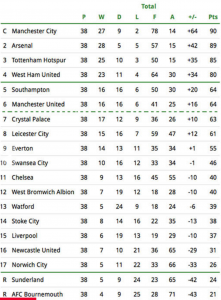 So we usually treat anything the Daily Star say with a large pinch of salt. But let's hope our scepticism on their football knowledge is wrong this time and they are bang on the money for once.
For the good old  Star would have us believe that they employed a small army of the world's top statisticians and mathematicians to check every permutation for the remaining Premier League fixtures to calculate the final league standings after 38 games.
They have West Ham finished in an amazing forth place and qualifying for the Champions League with 23 wins, 11 draws and 4 losses. We will amass a total of 80 points this season and have a goal difference of +34.
It must be true! I read it in the Daily Star.
Chelsea will finish 11th and Liverpool 15th while Sunderland gets relegated with Sam Allardyce. Unfortunately they predict Spurs will finished in third place above us also.
Champions League here we come then 😉