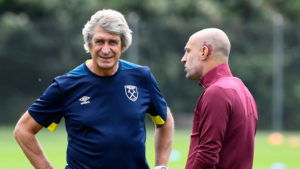 Pablo Zabaleta believes Hammers fans are a whole lot happier with life these days and he fully understands why!
He's right of course because the season just ended – despite some serious lows – showed real improvement on what's gone before.
Manuel Pellegrini's arrival has seen a sea change take place from the 'bottom' up with youngsters blooded, new faces brought in and a whole new brand of football being played.
Much will always be made of the next level – and indeed what that actually is – but the first season under the new boss has seen us finish in an encouragingly hi position given the injuries we suffered to key players.
The notable one was of course Manu Lanzini – around whom the manager had planned much – before he suffered that devastating injury on the Argentine World Cup training pitch.
Zaba is as close to the manager as it gets after the Manchester City years and has given his assessment of how he feels the squad progressed under the Chilean.
He told BEIN Sports: "I think we had a great season with a new manager in Manuel. We didn't start quite well, as we lost the first four games of the season, [but we finished strongly with three wins and in tenth position].
"The Club really backed him with £80 million last summer and we need to give credit to the owners that they really gave him a chance to bring quality players into the team with the likes of Andriy Yarmolenko, Felipe Anderson and Issa Diop, so they made some great signings.
"With his experience, always working at top clubs, he is trying to take West Ham to another level."
"West Ham is a big club with big fans and we play every home game with 60,000 fans, which is really impressive. 
"Every season is better. The last two seasons at London Stadium we've been in a relegation battle until the end of the season, so the atmosphere wasn't as good, but this season I think we played some of the best football at home, especially when we beat Manchester United, Arsenal and some other big teams.
"It seems like the fans are so much happier now."