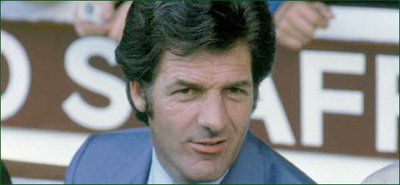 As I channel-hopped last night I was fortunate to find a replay of 'The Boleyn Boys ' on Sky Sports Mix –  documentary recorded during the last Upton park season and featuring five Irons greats.
It was riveting to listen again to Bill Bonds, Alan Devonshire, Phil Parkes, Tony Cottee and Tony Gale discussing our great history and the football being served up in Slaven Bilic's first season at the club.
But it was one comment  from Devo which hit home as we now back over two and a bit years of Slav's reign.
He interrupted the flow of conversation around the table to recall a comment made years ago by the great John Lyall who learned his trade under the architect of The West Ham Way, Ron Greenwood.
Dev said: "John always said that if you aren't going to win Cups then you have to entertain our fans and send them out with a smile on their face. That's what they expect and it's why they keep coming back week in week out." 
And to be honest that just about nails the famous West Ham Way as I've always understood it.
Lyall's words represent – even today – what this club has always been about although I understand that many would like to see us go in a different direction
But at a time when our displays have wavered between lethargic to pathetic maybe it would be worth Slaven Bilic printing out those words and placing them on the dressing room door.
We saw the entertainment in his first season and there were glimpses that it may be returning with some top stuff here and there at Burnley.
The time is here for the fans to be entertained like never before. Last season was awful – this ain't been a lot better so I for one am grateful that Devo reminded me of John's words.
Muddling through from game to game winning with a scrappy goal and grabbing draws are not us. We need to be expansive and entertaining and like it or lump it that has been the The West Ham Way with which so many of us grew up.