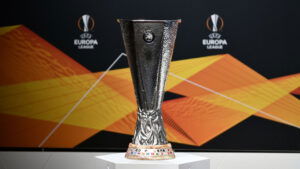 The Irons have confirmed ticketing details for our UEFA Europa League quarter-final first leg against Olympique Lyonnais – Season Ticket Holders and Bondholders able to book their seats now for the same price as the Sevilla tie!
Prices start at  £15 for Juniors and £35 Adults for a game which will surely pack out the London Stadium and provide the sort of atmosphere that rocked the place last Thursday.
The Hammers will take on the seven-time French champions at London Stadium on Thursday 7 April in our first European quarter-final tie since 1981.
It's going to be an essential, unmissable night and the fans – as claimed by Declan and Nobes – will have a massive part to play as they did against Sevilla.
That was a night those that were there will never forget and we can expect more of the same on April 7.
Season Ticket Holders and Bondholders have until 11am on Tuesday 22 March to secure their own seats, with a 24-hour window to purchase additional tickets for friends and family opening at 4pm the same day.
Claret Members can also book their tickets from 4pm on Tuesday 22 March, with General Sale starting 24 hours later.
The club explain that tickets can be purchased online at eticketing.co.uk/whufc or click here for full pricing details and sales dates.
We experienced a couple if glitches but all is now well so go for it!
The priority window for Club London Members is also open now and you can contact your dedicated Relationship Manager to book your hospitality places by calling 020 4526 8358 before 11am on Tuesday 22 March.