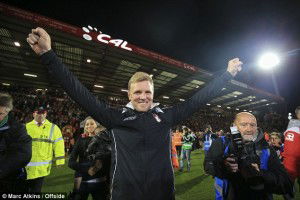 Bournemouth boss Eddie Howe admitted to an overwhelming sense of relief at the end.
The Cherries boss said: " " Relief is the overwhelming feeling. It always is in those circumstances – a mixture of emotions but the main one is relief.
"It sums up the Premier League really – the ups and downs are extreme but I think we played well.
"Yes we missed two penalties and I was surprised to see Joshua (King) miss it but his strike partner took the next one. There's nothing wrong with that.
"We had a lot thrown at us and it sums up the run we have had but the lads dug deep and it was a great winning goal.
"Joshua King has had an outstanding season and is beginning to show true potential.
"The spell we have been on has been hugely frustrating and there are questions raised when you are not winning.
"It's a demanding league but I am proud of my players – they never give in and showed that again today."