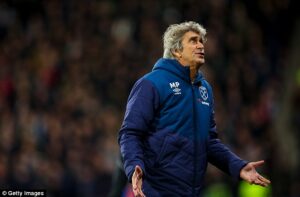 We may not be happy with no wins in five for the Hammers and our expectations of Manuel Pellegrini may be at an all-time low at the moment but the reality is that the owners won't be pulling the trigger in a knee jerk reaction any time soon and I fully expect the 66-year-old Chilean to see out his full contract.
Mr Pellegrini doesn't seem to be big on emotion and I can't imagine the boo's we heard yesterday and fresh supporter criticism will affect him too much. All water off a duck's back for the gaffer.
We are stuck with the squad we have until January at the earliest and we have the manager we all wanted 18 months ago so it is our bed and we must now lay in it. And if we think the gaffer will be given tens of millions to spend in the winter transfer window think again.
It is time to get behind the manager and the team to turn things around and stop the negative criticism on social media It achieves nothing.
In Pellegrini, we must still trust!