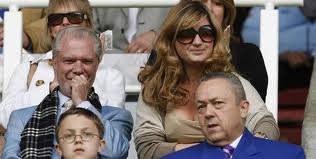 Regular blogger Rich Sprent casts his eye over the last few days and cones to the conclusion some may have suffered from over expectation.
So the decision to keep Big Sam on as team manager for his current final contracted year has been taken.
The well publicised 16 website poll showed that 78per cent of fans wanted him gone whilst a ClaretandHugh survey after the third victory over Sp*rs that 50 per cent wanted him removed immediately, 22 pc were happy for him to see out his contract and go at the end of next season.
The board have made their statement, releasing expectations of more entertainment, a 10
th
 place finish, and stringent controls over future transfers.



But is any of what the board have released as a result of fan unrest and threats over fans not renewing their season tickets?
For me there is nothing for me in that statement that wouldn't have been covered at the meeting with or without the online fan unrest. The decision to keep Sam Allardyce as manager of West Ham United is a business one first and foremost.
How did online polls affect any decision-making?
Annual season ticket revenue is £8-9m.
So what is the percentage of current non-renewals above the usual fluctuation?
IF those who continually state they won't renew stick to their word then what's the total? Even if it's 1-in-3 it will be less than the manager's reported £3-4m compensation package. And there has been no information that ST sales are particularly down on any other year.
In fact, by making a decision to keep the manager over 10 days before the ST renewal deadline one of two things are suggested: ST sales are comparable to previous years or that it's not a big enough factor in the big equation.
The tickets are expected to be sold, as ST, memberships or otherwise. This season just gone was the club's 10th highest average attendance, EVER. Added to that is that the following season ticket sales will be through the roof for the last season at the Boleyn whoever the manager is.
he fallback is if they do take a hit on ST sales next season then compared with the PL TV money its small change. It's low risk for one season.
The Baseline – Premier League Safety
Like it or not, it's where it's at. The Premier League is The Show. Allardyce's average PL finish is 9th. He's viewed as being a safe pair of hands. The risk of him taking West Ham down is seen as being comparably low to other managers.
Yes, there are another 16 managers who kept their teams in the PL – However, discount the top seven clubs and the rest were mostly in the lower half battle for much of the season. How many of those teams changed their managers and still flirted with the drop?
Cut Price Entertainment and The Top Ten
So what does the manager get to improve the team? He gets, with stringent board control, another (comparatively small) transfer warchest of £20-25m. Yes, small. It's only big when looked at over West Ham's history. 
If he gets to spend all that without having to balance books then it will mean he's added to the £38m already spent in three years. That would average out at just £15.75m per season. That's certainly not a huge amount when looking at other teams. For a club still cutting their cloth it's a fair amount.
The team WILL be improved – two seasons up and a fair wedge of money to spend on replacing players to improve the team was always the plan (and would be for any club). The entertainment should naturally progress with better players added to a solid if unspectacular side. £20-25m isn't a lot but should get 2-3 quality signings.
Allardyce expected 51pts this season just gone. That would have secured 9
th
. A top ten finish is therefore expected and is nothing new.
The unsaid pieces of the equation are that the debt is virtually all 'friendly'; the turnover is expected to be over £111m for this season; the wages to turnover ratio is reported at being the second lowest in the PL this season. That's excellent business by the board.
The season after next and we have no contracted manager. The board have a bit of flexibility here – if Sam meets his objectives, and he should, then he has a chance of a new contract. If he doesn't or a new direction is desired then what an opportunity for a new manager – last season at the Boleyn followed by the first year in the OS.
In three seasons time West Ham will look to open their PL campaign in the Olympic Stadium. I'd hazard a very safe guess that being an established PL side on sound financial footing is more important than replacing a manager for the sake of the next 38 matches.
The belts have been tightened at West Ham over Gold and Sullivan's ownership. The statement released this week told us that nothing dramatic should have been expected for next season anyway. It's a very pragmatic and sensible approach in the continuation of turning this club around.
The real question to be pondered is: Will this steady planning lead to making a real statement of intent when the club reaches the OS? 
A 54,000 capacity iconic stadium will need a team with more than an average of £16m per year invested into it to take us to the next level whoever is at the helm.