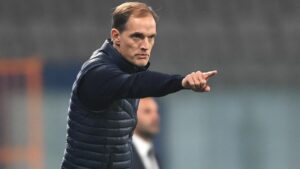 Any hopes that West Ham could attract either Thomas Tuchel or Mauricio Pochetino to the club have always looked dead in the water.
Both managers have been on the radar of the more hopeful for a fair while but have so far been jobless since departing Chelsea and PSG respectively,
The chances of them arriving at the club has always been unlikely as these are top bosses who would presumably want to manage Champions League clubs.
However, a new possibility may intervene to make things even more tricky should West Ham look in either direction as one top agent revealed they should.
There has to now be a possibility – if nothing more than that – that the FA would be looking in their direction should Gareth Southgate decide to quit as England manager.
Both would have to be have on their wanted list although whether either would want the job is another question.
There's also the question of whether GSBK would go for Southgate himself should he walk away!
Our agent contact claimed however: "If West Ham want to be considered a top club they have to show the ambition to go for these guys at the very least.
They may not get either but that should never stop them demonstrating they have the ambition to try."