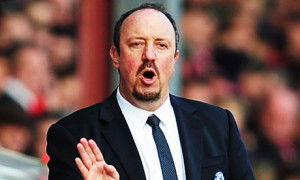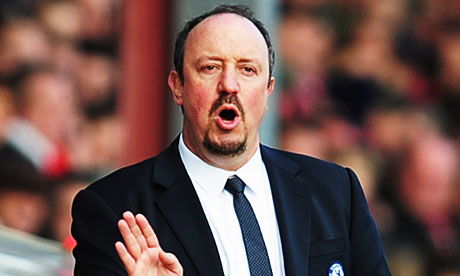 Even by West Ham's standards, the rumour factory is busier earlier than I can remember for many years.
And that's solely because here we are in early April preparing for games against the likes of Stoke, Manchester City, QPR and Villa with absolutely nothing to look forward to but cash for league positioning.
It could and should have been a lot better but instead we are being forced to listen to recycled rumours ,which had whiskers on them a couple of months ago, as a source of "excitement." It's called false hope.
There's is an incredible lack of imagination being attached to most of these "stories"-notably the currently favoured one  of Rafa Benitez as a possible new manager.
The story was first published here on ClaretandHugh as long ago as May 14, 2014.
We again explained on February 22 of this year that although he was fancied, the club had become aware that "he's not overly keen on coming and is a £6 million manager minimum anyway."
The very latest situation is that with Manuel Pellegrini and possibly Brendan Rodgers in danger at Manchester City and Liverpool, our board have become aware that the Spanish boss is keeping a very careful eye on developments in the north west.
However, as the old saying goes, don't let the facts ruin a good story and with people generally believing what they want to hear, the story has again grown legs.
Truth is: It's highly unlikely. To assume that it may be on, we also have to assume that a much bigger transfer budget would be made available than ever before. Big managers usually require big budgets.
Glenn Hoddle was hoisted as a candidate but that won't happen and the club are concerned about Slaven Bilic's pedigree which doesn't involve the Premier League. Boring though it may be, this leads us back to David Moyes and Marcelo Bielsa.
However, in an unguarded moment today as ClaretandHugh discussed the managerial position with a senior Upton Park 'face' we were told: "We know who the board like but there's nobody in the know who would be having a bet on anyone at this stage. The talking is still going on."
Beyond that we have heard that Kevin Miralles could be on his way – a story immediately denied when we tried it on some people – plus a variety of previously unheard of foreigners whose chances of arriving in the east end are based solely on tabloid tittle tattle.
It's such a shame! There could and should have been real excitement on the pitch from a team that started so well.
Instead our terrific fans are being fed a diet of transfer fiction to provide them with some interest in a season that went so wrong.