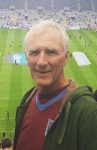 By Allen Cummings
The euphoria from last Sunday's victory is still rich in our veinsand why not?
We've waited long enough this season to feel as good as we did when that final whistle blew at Goodison. There were so many plusses to come out of a performance we had all hoped for, but if we're honest few expected.
Arnautovic, Rice, Obiang, Yarmolenko, Anderson, Obiang – all deserved, and rightly received special credit on the day. But one player that might have slipped under the radar somewhat was the enigma that is Michail Antonio. our very own 'Marmite Man'.
There appears to be no in between with Michail. You either love him or loathe him. On Sunday Sky's Jamie Carragher was one who was happy to sing Antonio's praises, after coming on as a 62nd minute substitution for Arnie.
Carragher pointed out that Antonio had done everything Manuel Pellegrini had asked of him. "He held the ball up brilliantly," said the ex Liverpool man. "Then used his pace and strength to really trouble the Everton defence."
These are attributes most of us already know he had in his locker. Add to that his quality in the air, his dribbling ability on the ground, his shooting prowess in both feet and the capability to play in a number of different positions and roles.
Antonio, on the face of it, should be a prized asset in modern football. So why is it we seem to be split down the middle these days about a one-time favourite. Whether he should play or not – stay or go?
It's fair to say Michail has suffered at the hands of injury over the past two seasons. But a re-occurring criticism has revolved around his attitude.
His body language hasn't always looked the best and as a result some question whether he deserves a place in the team. What I saw from him on Sunday leads me to believe there's renewed cause for optimism.
Pellegrini clearly asked Antonio to replicate the lone role of Arnie up front, occupy and stretch the Everton defence, just as Arnautovic had done. He did exactly that to perfectly. It would be foolish to say we didn't miss Arnie in that final half an hour or so, but Antonio's contribution was good enough to suggest the Everton defence found it no easier to handle him than they did our Austrian international.
The icing on the cake for me was a little game-management cameo close to the end, when Michail took the ball into the corner to run the clock down, and ended up winning a free kick into the bargain. Those who recall his recklessness in a similar situation at Selhurst Park last season, which resulted in a Palace equaliser, will also have enjoyed that change of intent.
So should Pellegrini find a starting pace for Antonio? Maybe not just yet. Possibly his best role at the moment will be as an impact sub – down either flank or up front as was the case on Sunday.
The signs around Michail were certainly encouraging. If Pellegrini can get him back to his best, surely we're better off with him than without him.