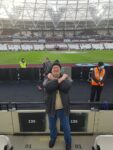 By Hughie Southon
Some serious West Ham facts first!
We have taken six points from the last 14 games – two wins, three draw and nine defeats.
We are in the bottom three.., any hopes that the manager would buy players capable of a climb into Europe and any possibility of keeping Declan on board are gone
relegation is looking more and more of a certainty
and today we were almost looking disinterested in beating our fiercest rivals in London during a second half which was embarrassing
meanwhile David Moyes is still in the manager's job
How…why…what is going on?
Yes, we had a go – for a while – but the manager decided that he wasn't going to change anything until the 70th minutes when we had gone behind much earlier and were chasing a game which had been well and truly lost .
Sorry to my mate Gonzo but Mikey for me was right off his game again and things should have been sorted much sooner but that's not the Moyes way.
Why was Scamacca on the bench. You should only be there if you are fit enough to play a part. He obviously wasn't and didn't.
Why three strikers were in the squad anyway is something it's impossible to work out when what we need is a creative midfielder although we have one and he's injured – Paqueta. One can never rely on Benrahma.
And before we get off the subject these are all Moyes signings.
I have had more than enough and will let you into a secret. During the summer I was talking to a couple of agents both of whom knew the players he had bought and was trying to buy and predicted nothing other than a fight against but possible relegation this season.
He has had four jobs, been sacked from three and it starts to become comparable with West Ham's season.
Now it's down to the board and before anyone asks, yes they know the Claret and Hugh position.
I and the boys over here will be deeply disappointed if he hasn't been sacked before the week is out otherwise I believe forest and Jesse Lingard could cause even more distress next weekend.
It will be a disaster…no a catastrophe if we go down but it is looming unless Moyes is fired and NOW!
We were told the Hammers had turned a corner – really?
As the once famous Ron Atkinson used to say with great cynicism: "ARE YOU SURE?"