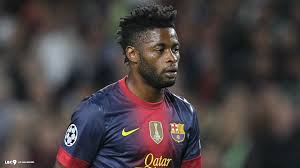 Barcelona's Alex Song is believed to be in talks with the Irons as the club attempt to sign the former Arsenal midfielder on a year's loan deal.
But we understand that both Galatasaray and Spurs are also keen to hold talks with the midfielder.
We reported last night that the player was being named as a possible target after the story emerged on Sky Sports News.
It now seems the deal may hang on a possible move by Mohamed Diame who is being hunted by Hull with a top level source telling us: "We are looking at a replacement should they come back for Mo."
He confirmed that Steve Bruce had yesterday  bid for Diame and that if they come back and meet the trigger figure of £3.5m the Irons would have to sell.
Things remain very much in the balance on all fronts but we were told: " "We are closing in on one – possibly two top players –  but it's just an even money bet at the moment.
"It's all quite delicate as is always the case and we won't name names while we are in negotiations…it's very much wait and see."