I've spoken to too many players after games to be very surprised by what they say!
It usually amounts to "we showed spirit, character and set our stall out" in the case of a draw or win or in the case of a defeat: "It was disappointing but we move on."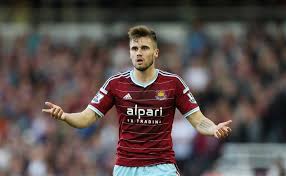 It's hard not to become cynical at the the responses after – some might say – spending too many years  waiting outside dressing rooms on a Saturday or Sunday afternoon..
I have a lot of time for Carl Jenkinson because win, lose or draw he always has something to say although he may have been better off saying nothing after yesterday's massively disappointing result at Leicester City.
However, he was the first one to speak to the official website at www.whufc.com and here for the record is what he had to say:
"We did well to get back in the game, so to not go on and get the goal to win the game was frustrating.
"Even then we couldn't keep the ball out of our net and they've gone and nicked one at the death.
"We wanted to build some momentum after beating Sunderland in the last game, but that's football. It's only one game and we've got a big one against Stoke next. They're near us in the table and we need to get a result.
"We had quite a lot of chances against Leicester. I had a header not long before they scored and I can think of quite a few across the team. Cheik hit the post and the ball's rolled across the line too.
"We had the chances but the ball just didn't want to go in for us in the second half. It's very frustrating but that's football sometimes.
"It seems the case at the moment that we can't quite get the results we deserve at times. Hopefully that'll change because we want to finish as high up the league as we can.
"There's enough games for us, it's not going to be easy because some of the teams we're playing are fighting against relegation. Everyone's got something to play for, so it's going to be tough but we've got to be prepared for that."