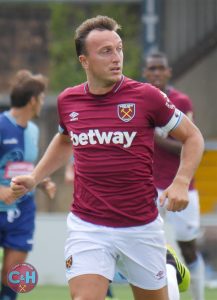 Mark Noble is finding playing under Manuel Pellegrini a real "joy."
The skipper was named yesterday (Thurs) as a very important player to the boss and has responded by talking of his enjoyment of being involved in the new Hammers regime.
Of the Aston Villa game he said: "You can imagine, I thoroughly enjoyed it. I must have had over 100 touches, which is nice. It's nice to come in and play like that.
"It was a joy to play in on Wednesday night. It's only pre-season and I've been through a lot of these now and it's all about the players gelling together, as we've got so many new players coming in and they're finding their feet. It's just a case of getting the players ready for the new season.
"You know you can't really gauge from pre-season how the season is going to go, but the big one is Liverpool away and that's what everyone is working towards."
And discussing record signing Felipe Anderson he added: "You know Felipe has got all sorts of ability and I told him just to go out and enjoy himself. He started a little bit nervous, but then he played some fantastic passes. You can see how much quality he's got.
"With Fabian, (Balbuena) you see exactly what he is. He's a proper defender and is good on the ball and really good at passing out from the back.
"The second goal summed the performance up, really. If I was sitting there watching it, I'd have thoroughly enjoyed it."