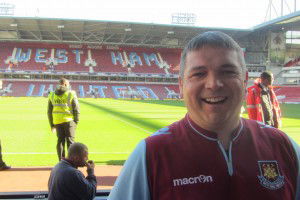 Sean Whetsone is a business expert and a massive Iron.
And after  the financial horror at QPR under one time wannabee Hammers owner Tony Fernandes he concludes:" We really dodged a bullet'
Love them or hate them, you can't accuse either David Gold or David Sullivan of not tackling West Ham's massive debt problem.
This came home with full force yesterday (Thursday) when it emerged that our one time wanabee owner Tony Fernandes has overseen some incredible financial carnage at Queens Park Rangers since becoming owner.
And I have to say that I honestly believe we dodged a bullet when he failed in two attempts to become our new owner.
I reckon had he done so he would have driven us further into debt with everything ending in tears. I believe  will for Rangers.
The south west London club have confirmed losses of £65.4m meaning that, under Football League Financial Fair Play rules, they face record fine of up to £47m if they do return to Premier league this summer.
Should they fail to win promotion they face a complete transfer ban until they can prove they can comply with Championship Financial Fair Play rules by limiting losses to £8m per season.
Self proclaimed Hammers fan Fernandes has run up massive debts since  buying QPR in 2011 and installing former West Ham manager Harry Redknapp.
Despite being listed with a net worth of £388m in Forbes in February 2014, Fernandes borrowed £15m in the name of QPR. The source of his wealth is a Malaysian airline called Air Asia who reported a 19 per cent fall in profits last month.
In 2010 he was involved in talks regarding a potential takeover of West Ham, at which stage it looked as if he was going to acquire a 51 per cent stake in the club from the Icelandics.
Former West Ham chairman Andrew Bernhardt even flew to Kuala Lumpur to try and finalise the deal, but the two parties failed to agree on the price.
Later in 2011 Fernandes made another offer to buy 51 per cent of the club from Sullivan and Gold who rejected the offer.
Sullivan told the London Evening Standard: "He wanted 51% of the club for two bob". Four months the self proclaimed life long West Ham fan purchased a 66% stake in QPR.
Sullivan and Gold look to have made yet another great decision on that front!