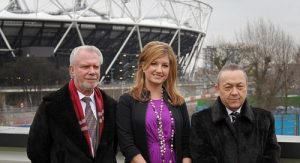 West Ham Vice Chairman has used her Sun column to apologise on behalf of everyone at West Ham and says the Board takes full responsibility for the club's predicament.
Writing for the tabloid Brady Says "FIRST of all I want to apologise on behalf of everyone at the football club for what we witnessed last Saturday.
West Ham United is known around the football world for its history, heritage and, above all, its heart – embodied in supporters who have worn the claret and blue with pride from the day they are born to the day they die.Last Saturday at London Stadium we had planned a day of celebration to mark the 25th anniversary of the passing of our greatest ever player, legendary captain Bobby Moore.
What transpired instead became one of the most painful days in the history of the club. I want to put on record that the Board of West Ham United would like to offer our sincere apologies to the vast majority of our supporters who turned up to support their club, lots of them with young children who sat and tried to continue to support their team. I would wholeheartedly like to thank those who have sent in messages of support.
I also pledge to you that nothing – and I mean nothing – is more important to us now than ensuring that you are able to come and support the team safely when we play Southampton on 31 March and all future games. I would like to thank Sir Trevor Brooking for his close and full support, and to apologise to Bobby Moore's family, including his daughter Roberta, for the fact the proud remembrance of her father's legacy was marred. We are acting fast on the recommendations and findings of the Safety Advisory Group meeting which took place on Thursday following a series of emergency meetings called by the club.We are fully aware of the responsibility we have to guarantee our supporters' safety, and nothing comes before that.
But let me be frank. The Board takes full responsibility for our predicament. Ultimately the table does not lie and just like the team we are judged on our position.Every fan has a view on players, manager and team formation but it is our job to put in place a structure that allows our players and team management to secure the necessary results.'