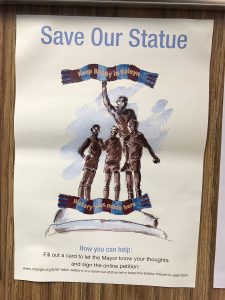 Local businesses in the Green Street and Barking road area continue to campaign and lobby Newham Mayor Sir Robin Wales to keep the Champions statue which includes West Ham legends Bobby Moore, Geoff Hurst and Martin Peters where it is close to the old Boleyn Ground.
Posters have appeared in the windows of local businesses saying 'Save our Statue, Keep Bobby in Boleyn, History was made here'
The poster encourages local people to fill in a card and sign an online petition to keep the statue where it is.
Newham Council has yet to make their final decision on the relocation of the World cup statue but a recent poll of 600 West Ham fans indicates that supporters have some sympathy with local people with over 68% saying leave it where it is and commission a new statue for the London Stadium.
The online petition can be found at https://www.change.org/p/sir-robin-wales-s-o-s-save-our-statue-let-s-keep-the-bobby-moore-in-east-ham
Should the statue remain where it is? Fill in the poll below.