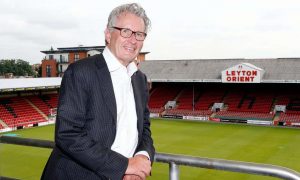 Leyton Orient has decided not to pursue a claim of illegal state aid against West Ham's rental of the former Olympic Stadium.
US businessman and new owner of Orient, Nigel Travis allowed a complaint with the European Commission to lapse recently meaning the case against West Ham will finally be closed with the state aid investigation dropped.
Leyton Orient made the complaint to the European Commission on 24th May 2016 while under the previous ownership of Francesco Becchetti.
This is the second time an alleged state aid complaint has been lodged with the European Commission and West Ham will now hope it is the last and this will now be the end of it. Architect Steve Lawrence became the first to raise state aid claims in 2012 which caused the first bid for the stadium to collapse and for the tender process to run again.  Previous Orient owner Barry Hearn also filed a judicial review against the stadium owners at the same time.
The state aid complaint documentation has been recently been released under Freedom of Information at http://www.queenelizabetholympicpark.co.uk/our-story/the-legacy-corporation/good-governance/publication-scheme/disclosure-log/2017-foi