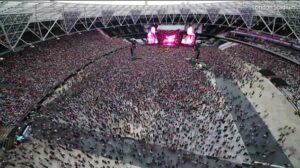 London Stadium owners say they want to install a new 'Playmaker pitch' at the London Stadium to let them stage more music concerts over next summer.
The London Stadium staged just one music concert this summer when Muse played tp 80,000 fans at the former Olympic Stadium due to four weekends of setup for baseball.
Next summer the public owners say they hope to stage four music concerts during the summer in addition to baseball but say they could stage up to six concerts if they are able to change the pitch to a fast-growing grass. The stadium is licensed to stage up to ten music concerts per annum.
Owners E20 Stadium signed a two-year contract with Major League Baseball but there is a concern that oppotunity costs have been lost with a lack of profitable music concerts.
Any changes to the London Stadium grass or the pitch would need to be agreed by both the Premier League and West Ham United as there are strict contractual requirements for the playing surface.