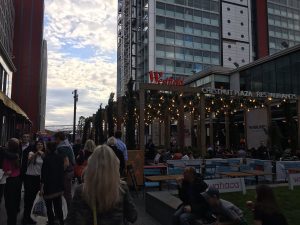 London Stadium operators have reacted to a story by the Sun newspaper headline that "West Ham's London Stadium seats lie dumped in industrial yard"
A source close to the stadium management company LS185 who spoke to Claret and Hugh this morning laughed off the weekend tabloid story saying the seats had been carefully stored in an agreed area adding they are made out of non-bio degradable plastic so a simple wipe down and refitting would all that is required and they are very confident all would the stadium would be back in football mode by Monday 11th September.
He also rejected a social media report by a journalist which claimed that athletics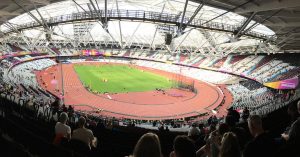 fans had been allowed full access to Westfield shopping centre at all times, unlike West Ham fans. He explained that the same rules and restrictions are in place for athletics fans that are in place for football fans. There are restrictions at peak egress approximately 60 minutes before and after each athletic session.
Finally, he debunked internet myths that the grass area will be damaged by continued punishment by shot puts and javelins making holes during the IAAF World Championships. Again he laughed and said a simple fork underneath the grass would repair the majority of the indents and they expect no problems for the football season. He explained the grass suffered more trauma when it was covered over for the music concert season but it has still recovered well and was now in full growth.  The IAAF world championships finish on 13th August and the stadium owners have 28 days to put back the seats and West Ham branding and signs before the first premier league home game on Monday 11th September.