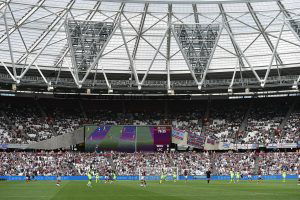 West Ham will see their £2.5m London Stadium rent increase by 3.5% from August in line with the Retail Price Index (RPI). The 99-year concessionaire agreement signed in March 2013 by West Ham United and owners E20 Stadium LLP sets out the increase each year based on the RPI figure set the Office of National Statistics (ONS) each April.
The increase between April 2016 and April 2017 has been set at 3.5% meaning the Hammers will pay another £87,500 to bring their one-off usage fee to £2,587,500 for their second year at the London Stadium.
The Retail Price Index records a historical increase of 256% over the past fifty-seven years so using the same averages West Ham could see RPI increase of 440% over the next 98 years. That could mean our annual rent could top tens of millions by 2115! However, whether the London Stadium is still in public ownership by that date is severely in doubt. The government may decide to cut their losses way before that date and sell the former Olympic stadium to the club.