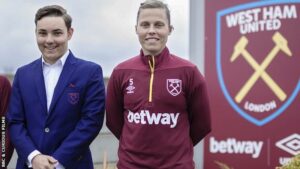 This afternoon West Ham expect over 20,000 at the London Stadium as West Ham Women take on local rivals Spurs in the Women's Super League.
West Ham's women's team's managing director Jack Sullivan told the BBC:
"This is a great time to be part of women's football but we've got to make sure that this great time becomes permanent, the agenda for us, and for everyone in women's football, should be 'how can we make the women's game sustainable?'
"Last year we sold 300 season tickets and this year we are on 900. The more people you have coming to the games, the more sustainable the team becomes."
"The London Stadium is so historic for so many reasons,  the players are going to be doing their prehab where Usain Bolt, Mo Farah and Jess Ennis-Hill have warmed up.
"Then they're going to be in the stadium where Andy Carroll did that amazing overhead kick against Crystal Palace and Dimitri Payet ran from the halfway line against Middlesbrough. We want to say 'you're part of West Ham, you're part of all these historical events at the stadium'. Hopefully we can make one of those memories for this team as well, scoring a great goal or something."