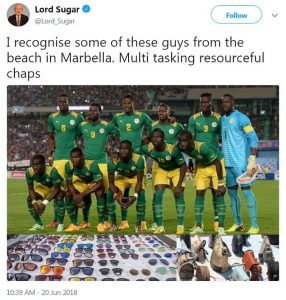 Spurs fan Lord Alan Sugar today sparked a huge racism row after he posted a racist tweet comparing the Senegal World Cup squad which included Hammer Chiek Kouyate to black beach sellers.
Hundreds of people immediately slammed the 71-year-old Apprentice host, but he initially failed to back down, calling the reaction 'OTT' to what was a 'bloody joke'.
The tweet was eventually removed 23 minutes later – but Lord Sugar insisted this was only because it was 'interpreted in the wrong way as offensive by a few people'.
However, 82 minutes after posting the initial message, he admitted the tweet was 'misjudged' and his 'attempt at humour has backfired', saying he was 'very sorry'.
Sugar hosts the BBC apprentice show with West Ham Vice-Chairman Karren Brady which is currently filming a new series. It remains to be seen what action the BBC might take. The BBC, who broadcast The Apprentice are preparing a statement today.