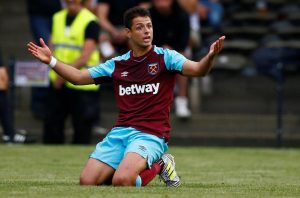 It's going to be very interesting to see how Slaven Bilic sets up the team for Swansea without Michail Antonio given the events of last weekend and Spurs!
We need no reminding that he started with Hernandez up top, subbing Antonio with Carroll and thus returning to a shape we had become so used to. Situation normal!
Now we will see whether Carroll becomes Plan A again or whether the manager intends to stick with Hernandez at the peak of the attack and maybe bring in Diafra Sakho to partner him.
It wouldn't be unfair to say that the boss often has us all visiting www.confused.com but should he really want to give Hernandez the leading role whilst keeping Carroll in the squad, surely it has to be in a 4-4-2.
He hasn't started with that formation in any game I can remember but when he has been forced to introduce it during the course of the 90 minutes, we have usually looked a much more threatening outfit.
My money – given the manager's track record – would be on him bringing in Carroll again – it appears to be the default position
If he does keep it as he intended for Spurs I believe Ayew is likely to be drafted in rather than Sakho who it seems mat still be on the naughty step.
That's a shame because he is always a threat which is not a word that can be used in Ayew's case.
Saturday afternoon's selection is going to be very interesting indeed and Chicharito is set to get a big clue perhaps on where he really stands at West Ham.
COYI