National newspaperman SCOTT LONEY has been a Manchester City season ticket holder for years and years and could barely believe what he was watching from the Hammers last weekend. Here he explains that our brilliant boys made believers of thousands of City fans and declares: "Champions League qualification is not beyond your orbit." 
By Scott Loney
Pep Guardiola was gushing in his praise and it seems Manchester City fans are equally convinced a top-four finish is realistic for Irons.
Post-match message boards and Twitter handles were strewn with genuine compliments for the part David Moyes' men played in the unlucky weekend 2-1 reverse to the runaway Premier League leaders.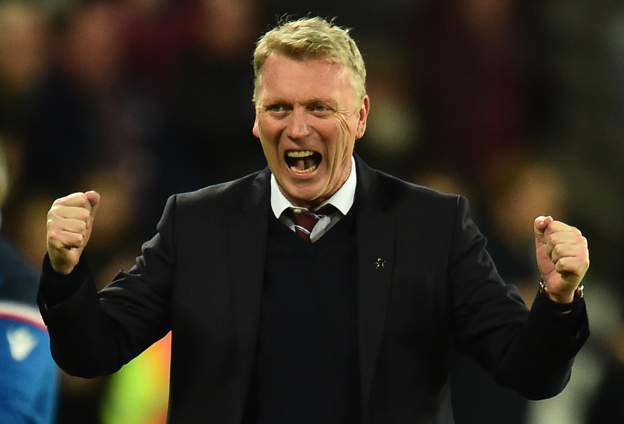 City acknowledged they were fortunate  to extend their incredible winning sequence to 20 games in all competitions, without the slightest hint of condescension in victory.
And perhaps, as a City supporter myself of 40 years standing, Hammers fans will allow me to blow a little more smoke your way, so long as it doesn't blind you to what should now be the obvious – Champions League football is there for the taking this season.
I can tell you this current Pep team is truly something else, asking questions of opponents that has failed to illicit any decent response for the last three months.
A team that has conceded just 16 Premier League goals this season – five of them in one game at home to Leicester City at the very start of the campaign – which included three penalties.
Another two penalties home and away against Liverpool – the 'defending' Champions were limited to just four shots on target across the two games.
Chuck in an unfortunate own goal by Ruben Dias against West Brom back in December, and you start to find some degree of context for how impressive City found in the Hammers' showing.
You had more shots on target in the opening 45 minutes than City had encountered in two months, with Ederson picking the ball out of his net for the first time at home since Dias deflected past him for the Baggies.
Added to the selfless running of Antonio and Lingard, City struggled to force their own press until the fresher legs of Phil Foden and Gabriel Jesus entered the fray in the second half.
We haven't given Liverpool, Chelsea, United, Everton or Spurs a kick during our perfect run, so it was refreshing to see Moyes send a team out to try and cross the halfway line.
City have conceded just once in the Champions League this season and even my own pessimistic outlook is being sidelined by a genuine belief we could do something very special with this team.
And Moyes can do likewise, forget expectation management, much as it is understandable.
Aim for the moon and these superb Irons could yet land amongst the stars, Champions League qualification is not beyond your orbit.
We've seen the best of the rest and, for someone privileged enough to have seen my team make light work of pretty much everyone who has tried to stand in their way, Irons have been our hardest two fixtures, without fear of contradiction.
The best advice I can offer is this. As a previous long-suffering Blue, with the supposed elite expecting your own team to 'know its place', don't be cowed, don't be intimidated, don't be talked out of believing.
You made believers out of plenty of City fans at the weekend – that bloke Pep Guardiola knows a good team when he sees one.