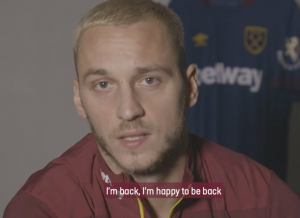 So Marko Arnautovic signed a new contract to motivate him to give his best for West Ham, so what!
He was born in Austria, not the East End,  this is not his boyhood club! We all know and understand he is motivated by money and wants to maximise his earning potential in his remaining playing days as many footballers do!
He can't pick his family and while his brother's antics may annoy us we knew what we were taking on when we landed him from Stoke City as that is his modus operandi.
If we are all completely honest with ourselves most of us would jump at the chance to earn £295,00o per week after tax so it difficult to blame him wanting to move, who wouldn't if given the chance?
It is also true he never refused to play or train unlike Dimi Payet so we can give him that one piece of professionalism.
Bearing a grudge with Marko for his remaining time at West Ham is pointless, it is time to move on and let him do his talking on the pitch with goals and assists which we love him for.
Crossed hammers signs and kissing the badge from the 29-year-old might feel disingenuous in the future and I am guessing we will see the back of them as he slowly rebuilds his relationship with the fans.
Marko Arnautovic may be a swine but he is still our swine …. for now anyway!
The best thing he can do right now is score against Wolves on Tuesday, no further words, statements or videos are required.