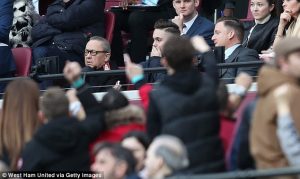 West Ham insiders have rubbished a tabloid report that claimed West Ham would sue a supporter who ran onto the pitch with the corner flag.
Yesterday the Daily Mail protester Paul Colbourne said  "I  am also worried and found it scary when the police said West Ham would be bringing a civil case against me. If they get fined say £30,000 they could come after me and I won't be able to pay, but mine was a symbolic gesture. That was all I was trying to do."
Club insiders say they have no intention of issuing civil proceeding for compensation against the fan and have no idea of where the story came from.
Likewise, the insider rubbished reports in the Daily Mirror which said hundreds of West Ham supporters are facing a ban following Saturday's troubles at the Stadium.  The insider said those who ran onto the pitch, threw missiles or who were involved in violent behaviour could expect a ban if identified on CCTV but ordinary fans chanting in front of the director's box would not face the same punishment.
Reports of a points deduction, playing behind closed doors or a reduced capacity were described as pure speculation by the media with a heavy fine the most likely outcome from the Football Association investigation.
The club wants a truce with West Ham fans at least until the Summer to avoid relegation.