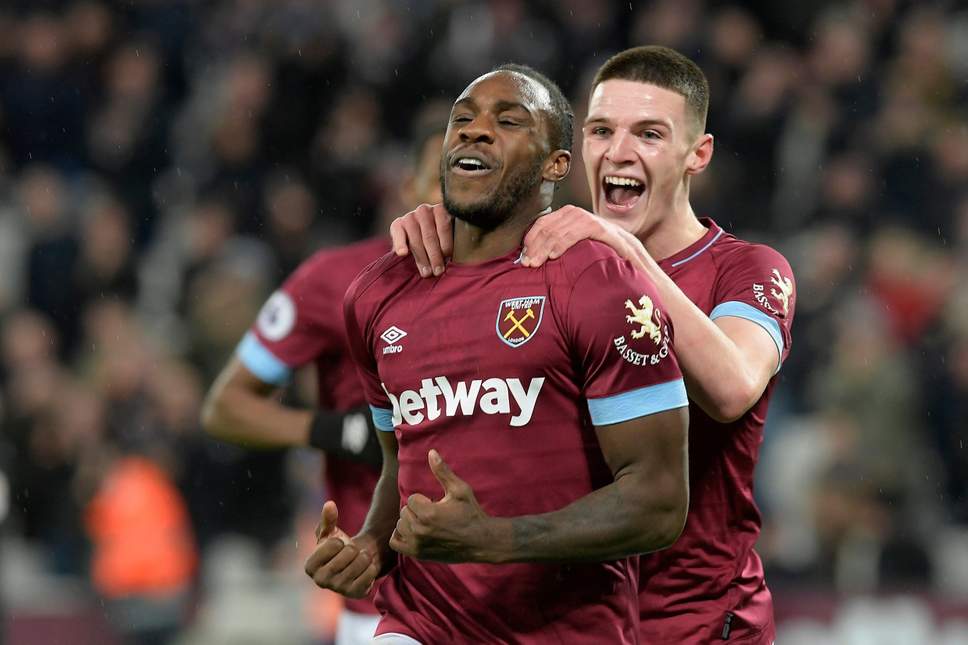 Michail Antonio may not have scored since New Years Day in the Premier League but last night he showed he is returning to the top of his game in a season when he was fully expected to be suffering injuries.
But in fact he last night equalled his  highest-ever tally of one season for West Ham, and there are still a couple of months to go.
Hamstring injuries and muscle problems have been the bane of his life at the club, but now he has accepted totally that he can rely on his body to compete at the highest level, despite the gruelling schedule brought about by European and international commitments.
"It has been amazing," Antonio tells Standard Sport. "I've loved every minute of it. Setbacks are hard to take, especially when you are trying your hardest and feel like you are doing all the right stuff. This season, throwing in even international games, with no real breaks, my body has managed to stay together."
"It was difficult. I wasn't really sprinting 100 per cent. There were certain things in the back of my mind, where I was thinking, 'My hamstring is going to go, it's going to go'. Mentally, it was a battle. Now, being able to play freely, it is a huge weight lifted off of me."
David Moyes too is clearly as confident as the No 9 having decided to ignore calls for another striker to ne bought in the winter, instead sticking by the 32 year old – and his age makes his seasonal appearances all the more extraordinary.
And last night he again showed his ability to hold the ball up in a one up tole and bring other players into the game in a hugely effective way at times.
He explained: "Having come through non-League, my body is used to playing this amount of games. I told the manager and physio that I am used to playing week in, week out. In the Championship it was Saturday, Tuesday, Saturday, Tuesday. My body did that for seven years before coming to the Premier League.
"Going Thursday-Sunday now, I feel like I am used to it. You don't train as much, all you do is prepare for games. My body is always able to play in the games.
"I am going for it now. The beginning of the season I was holding back a bit, but as time has gone by I've been getting stronger and stronger as the season has gone on. I managed to play 120 [minutes, against Sevilla], then played against Spurs on the Sunday — and there was no complication. These are the things that kept me going and made me believe that my body can be alright."
His new diet is another big reason for the improvement and he says: "I've tried to change it multiple times," he says. "I gave up alcohol, tried to be vegan for a week — I couldn't do it —but now I don't eat red meat. It's just chicken, fish and I have loads of vegetables. Veg is an alkaline and it helps to combat inflammation in the muscles."
He admits that his relationship with the manager has not always been so straightforward as it is now. During Moyes's first spell at West Ham, he dropped Antonio from a squad after he was late to a team meeting — a clear line in the sand.
Antonio said: "When he came the first time, there was a bit of a fall-out between me and him, We moved on from that quite quickly and finished the season quite well.
"One thing with the gaffer is that even if you've had a falling-out, he will easily forget. You can go in and have a full-on row with each other, but from that row we both respect each other as player and manager."
That does not mean there is no longer the need for choice words to be exchanged every now and then.
"There are definitely some voices being raised and digging people out," he says.
"Scary? Yeah. It is needed. People need to be lifted and know if they're not doing well. That is one thing we get from him and from player to player. Everyone demands the best from each other; the coaching staff and players, we all demand it and we will keep pushing each other."
"I have been here a long time and four out of the seven seasons I have been here we've been in relegation battles," says Antonio. "I love that we are looking up, instead of looking back.
"The pressure of relegation is awful. It is a completely different pressure now. It is good pressure, because it shows that we are doing well."