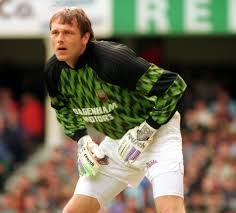 Ludek Miklosko appeared in goal 373 times for the Hammers and played alongside Bilic during the closing months of his Boleyn career.
But that was enough for him to become close friends with the manager and he declares of the present run of result: "It's unbelievable. Those were fantastic results (against Arsenal, Manchester City, Liverpool and Chelsea).
"I was a bit unlucky because I have only been at one match this season and it was the home match with Bournemouth, that we lost, which was not the best performance.
"I had a meeting with Slaven after that game and he said he was confident that he had a good team and since then the team has not lost in the league. It's great.
"I am keeping in touch with Slaven regularly, calling him and sending him text messages and he knows the team needs to keep their run going."
'Ludo' believes his testing time will come after the next international break and Slav's entry into his first  managerial winter in English football.
Speaking to the official site he said: "The difficult time will come at Christmas time, then there are lots of games and the going can get tough with the weather and some injuries.
"However, I know Slaven has great experience from his time managing his country, Croatia, and from managing clubs in Russia and Turkey.
"He went through a lot with his national team and playing in European competitions and he knows all about football and how to rises to these challenges.
"I never look to single out one player in a team, because it needs the whole team to play well for a team to go on a run like we have been on recently. All the players deserve the praise for the job they have been doing."
"Expectations from the fans will grow with every good result, and that can make it more difficult to get the wins, but I know Slaven will not let the players relax and will continue to do a good job."