Len is up to his usual mischief and this time he's sending up our owners and club legend Billy Bonds as well as having his own say on who should be benched on Friday night against Brighton Hove Albion. We also hear the owners (well their animated selves anyway) views on the increasing complex goalkeeping situation that the club find themselves in whilst Len is slightly confused about the nationality of one of our favourite stars.
Len will be contributing regularly for Hammers Chat forum channel where we are trying to inject a bit of fun into the West Ham world of blogging.
Hammers Chat also have an exciting prize to give away to one of you. . . .  . . . . . . A signed Manuel Lanzini shirt! All you have to do to enter is be subscribed to the Hammers Chat You Tube channel and in the comments below the Brighton preview video tell us your favourite Manuel Lanzini moment.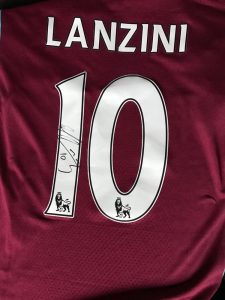 The the quickest way to enter is buy clicking the link here but full details are also at the end of our preview below. Good Luck