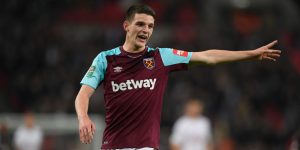 David Moyes has finally poured gallons of cold water over suggestions that  Declan Rice will be leaving the club this summer and if he has his way it won't be happening at all.
Instead, he is determined to build a new West Ham around the 21 year old  midfielder – again being linked with tomorrow night's opponents – Chelsea.
The club have made it clear they have no intention of letting him go and have him under contract for another four years anyway and Moyes sees him as the central figure in the West Ham he hopes to build should he be handed a long term opportunity.
As the club celebrates its 125th anniversary this week the manager was keen to explain where he wants to take us and Declan's role within it.
Speaking to reporters he said: "If you think of the great players that have been at West Ham over the last 125 years, some stunning players, Declan Rice is not anywhere close to that level yet so he has a lot of improving to do to rach that level but he is a very, very good player.
I have had the chance to see a lot of players at the top level and their qualities, Declan has many of them. My idea is to build West Ham around Declan Rice.
I see Declan Rice as a future captain of West Ham, for many reasons. I am looking forward to working with him and unless I am told differently, or things change, he is a very big part of the club to me."
Moyes is also relieved that the early results after the restart haven't hurt the Hammers more adding that we are in a better position than we could have been.
But he added: "I felt that we could have taken some points from the first few games. I went into them with the feeling that we could get something from the first few games.