David Moyes may be in the mood to introduce one of the kids into the team at some stage against Derby County in this evening's Fourth Round FA Cup clash.
And the one he has in mind is striker Divin Mubama who featured in the UEFA Europa Conference League Group B win over FCSB in Romania in November.
Moyes had taken criticism for allowing kids to leave the club over recent days and it would be great to see the exciting youngster involved this evening.
He certainly caught the eye with his work-rate, intelligent movement and technical ability. Indeed, he was only denied a debut goal when his header was diverted into the net by defender Joyskim Dawa for an own-goal.
Moyes was asked about Mubama's development and if he could feature at Pride Park Stadium, the manager spoke positively about the England U19 international.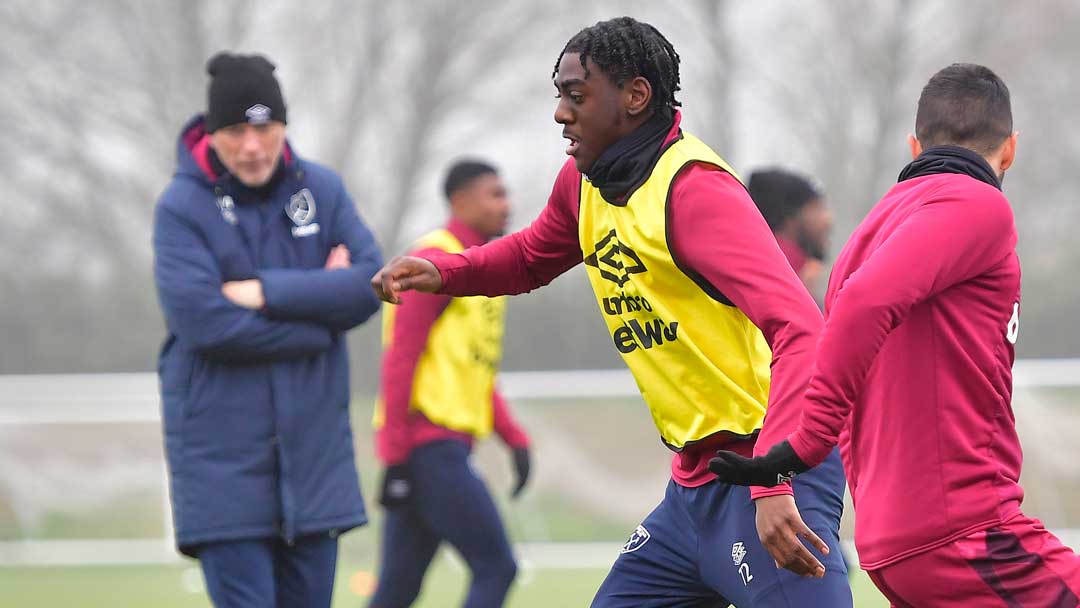 Talking to the official site at www.whufc.com Moyes made his iopinion clear on the youngster saying: "I'd like to have Divin involved if I could. I'd like to have him around the group. I think he gives us great energy and is a great runner.
"If you're asking me where I think he is, I think he is still off it a little bit, but if I could get him involved, I certainly would because the biggest thing about him is that he's got a brilliant attitude. He's willing to run and work for the team and is a real team player, which I really like.
"We like him and we think he's got a chance, but it's probably just a little bit before his time, really, but you've seen him in Europe and he came on in a mid-season game against Fulham and he's done well, so 100 per cent, if we've got room for Divin, we'll try and use him.
"I like him a lot because he's a boy who reacts like 'Wow! What a chance I've got here!'. He's grateful, he has great humility in him with the work he wants to do, and at Fulham we asked him to go on and just chase people down and he was unbelievable at it. He nearly got a standing ovation from the West Ham supporters because of his commitment and his effort.
"I've included him more and involved him more because he has shown a bit of what we needed and we'll try and look after him as well."