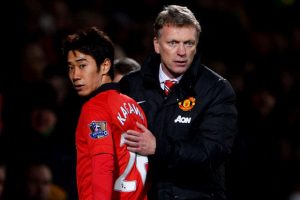 West Ham have been linked with former Manchester United playmaker Shinji Kagawa, according to reports in Germany.
FussballEck are reporting that Kagawa is one of West Ham's Summer targets, with David Moyes looking for a reunion with his former Japanese player.Kagawa played at Manchester United under David Moyes.
The midfielder's contract in Germany with Dortmund runs out in 2020, and West Ham are said to be looking at him as a possible target. The Japanese player is expected to cost around €13 million for any potential suitors.
He is currently suffering from an ankle injury which he picked up in February.
The former Manchester United playmaker, who has endured a difficult campaign at the Westfalenstadion, is apparently ready for a new challenge following a four-season stint in Germany. Kagawa re-signed for Dortmund from the Red Devils in 2014 and the 29-year-old Japanese star is ready for one more big move in his career.