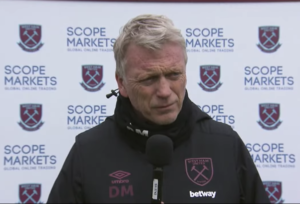 Slowly the heat will go out of Zoumagate – it does in every seemingly major scenario after it has first blown up.
Everyone knows where we at CandH stand – he did a thoroughly awful thing but it's perhaps time to turn the attention onto David Moyes and frankly I feel pretty sorry for the man.
The manager has been entirely up front about what's gone on when asked, but let's remember that his job – in a situation none of us have ever seen before in football – is to win…end of!
He also has another major problem and his name is Issa Diop who frankly has been abysmal for weeks on end. Had he not been life might have been easier.
So the manager has to do what managers must do in any situation – pick his best team – although frankly he should be  concerned about Zouma's state of mind as he goes around stadiums being booed relentlessly.
The argument AGAINST him play Zouma at the Power King on Sunday is that it will again stir up the media feeding frenzy again but the reality is there could hardly be more than we've seen this week.
So I understand why Moyes is going down this road…do I agree as a supporter and CandH as a site. Not sure but when I consider the Diop option I certainly sway in the manager's direction a bit.
The young Frenchman given what we are seeing here looks history!