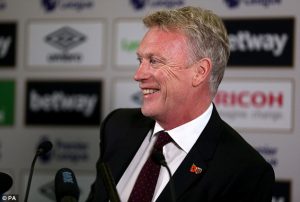 David Moyes has heaped praise on his squad insisting they have been "really good in training" this week.
Writing in his London Evening Standard column he reveals that there has been a lot of noise coming from him as they prepare for tonight's clash against Leicester City.
The best thing I can say about the players is that they have been really good in training and their attitude has been first class," he wrote. "They've taken everything on board and they themselves want the work in training.
"I always say to the players that 'When I'm shouting, you should be enjoying it. It's when I stop shouting that you know I've given up on you'.
"We're encouraging the players because we believe in them and we want them to rediscover their best form."
He added: ""You learn a lot about your players when you're out on the training pitch but you find out a whole lot more when you watch them in a competitive match. I expect to learn more tonight."