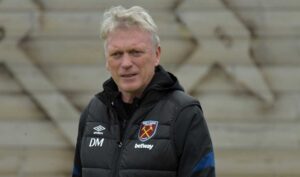 David Moyes makes no secret of the fact that he is being very tempted to play new signing Thilo Kehrer against Brighton and Hove Albion at the Londoin Stadium tomorrow (Sun).
With Craig Dawson unlikely to be fit and Angelo Ogbonna still not up to speed after injury the manager admits that the signing from  Paris St Germain is a serious option.
Although he is basically a left back it looks more than likely  he could be drafted into central defence where Ben Johnson has been acting as a stop gap,
Asked how he felt about the possibility of playing Kehrer the manager told reporters: " I'm very tempted. Very. We are short. Angelo has not played much. Thilo has not played much, but the difference with Angelo is he has come back from a serious injury and not played for a year.
"You are trying to find ways of getting Angelo a game and we probably pushed him back for a couple of those friendly games because once you get into the season you just don't have the time.
We just need to keep nudging Angelo along. He is back, but he is not back absolutely and if we get through to the groups those European games would be a great place to get Angelo back used to it."
Signing Kehrer was something of a statement from the club and Moyes was asked how we convinced him this was the club for him to join.
He said: "The biggest thing players want is to play games. You can stay at PSG and pick up bundles but you can come and play football for much less and decide what you want to do. That's what he has done.
"He has decided to come and be a player. He is at a good age for us, room for improvement, time to develop. He needs to get used to the Premier League as it will be a completely different intensity.
You think about starting Thilo in the Prem and it is about the intensity of the game, quickness of the game, but he has played two games for Germany in June so it is not as if he is a mug.
He won't be surprised by the players he is coming up against as he has probably played against them for his national team, but the Premier League can catch you out if you are not there.
Sometimes you are trying to protect the new players to give them a chance and asking if they are ready. The minute you put them on the grass you judge them, so you try and give them every chance to be as ready as they can be."