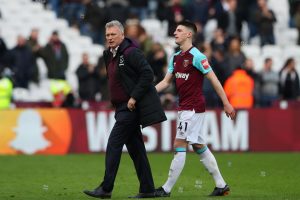 David Moyes had tough words for young Declan Rice after the 4-1 defeat by Arsenal.
But the manager was keen to make it clear that as a young player "that's how you learn and hopefully he will come back better."
Speaking to BBC Sport he said: ""We just didn't start the second half as well and they got a foothold in the game. We came back into it but in the end we probably had too many attacking players on the pitch and ruined our balance of making sure we did the defensive job well.
"Great credit to lads for how well they done and stuck at it. Unfortunately a young player [Declan Rice] makes a mistake – but that's how you learn, make mistakes and get on with it – and hopefully come back better. Joe Hart made two very good saves. We need them to make saves."
"It [Wenger's announcement] did make it more difficult but I didn't think it played that way. We did a really good job, contained them for long periods.