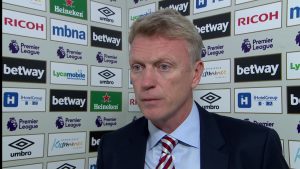 Pragmatic David Moyes has told the squad that whilst they can feel pleased with their recent efforts they have a long way to go before they can start the celebrations.
Speaking to the presser ahead of Stoke City he said: "They have started to gain belief and, because of that, they've started to do good things.
"We've still got to climb the table, so we've got to win an awful lot more games. We can pat ourselves on the back and say how well the players have done, but overall we've still got a lot of games to go and we've got to win them.
"We've definitely felt positive energy and an uplift around the place these last couple of days. Anybody who beats Chelsea and gets a result against Arsenal, especially with the position we're in, it's a real positive.
Stoke have some really good senior players who they can call on at any time and we also know they have ability in other areas, so we know it's a tough game," he said.