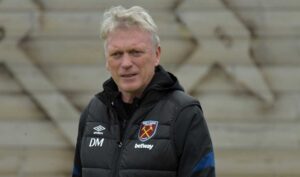 David Moyes has made it clear that playing Manchester City on opening day may well be the best time to meet the title holders.
But he has also admitted that the Hammers aren't quite ready and are attempting to find their rhythm – hopefully that will come together today although, fingers crossed, City may well be in a similar position.
The season has come around so quickly that most teams are probably not as far forward as they would like.
And with nearly a month left of the window and new signings  to arrive it could be a few weeks until all sides are into the swing they would like. However, there can be no excuses for setbacks should they occur as every club is in the same position
David Moyes believes we are still recovering from the last two seasons, which he says have been " squashed in."
Speakinng to www.whufc.com the manager explained: "We've not had any less games and for us here at West Ham, it was a brilliant [2021/22] season, because we had all the European games.
So, we're still having a little bit of recovery and, as I said, we're still piecing together and with the loss of one or two players means that we're going to have to find new players and start a new rebuild of a team. So, we're in the process of that just now.
I love being back and it's great to be back amongst it but, as I said, there's quite a big job going on here at the moment. We've got a bigger job than a lot of people think to get a side that's competing as well as we have done in the last couple of seasons.