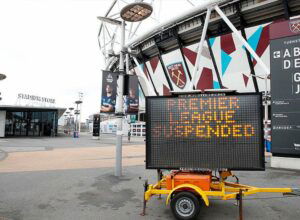 The Premier League season could be completed using a combination of home grounds and neutral venues in a dramatic new twist to Project Restart the Daily Mail has revealed.
The Mail says that the new proposal to use 'home/away and/or neutral venues' is on the agenda again for the potentially decisive meeting of the 20 clubs this Thursday, when they will also be asked to provide approval in principle for the Premier League's preferred resumption date, fixture list and plans for allocating league position in the event of curtailment.
There will also be a formal vote on a proposed financial settlement with the broadcasters.
The Premier League is reported to now considering a hybrid model in which a handful of fixtures could be moved to a neutral venue in order to allay any lingering public order and safety concerns.  Whilst the majority of games would be staged on home grounds as planned certain high-risk matches could be switched to reduce the likelihood of fans congregating, and any potential flare-ups.
In addition to voting on the broadcasting settlement the clubs will also discuss how to sanction any breaches of the Government-approved training protocols, and whether to extend their financial support to the EFL beyond their existing solidarity and parachute payments.
Claret and Hugh say
The restart needs to a level playing field so it is difficult how this new hybrid model would work. Who makes the decision which fixtures are high risk and for what reasons? If it was for medical and safety reasons because of a high infection in the area it could maybe work but if it was related to police intelligence of historic high-risk games it could be problematic. Under this model, West Ham's home game against Chelsea could be moved away from London with authorities worried about fans meeting up outside the London Stadium. Relegation could be settled on goal difference and therefore all clubs the bottom six should have the same conditions to survive for it to be considered fair.