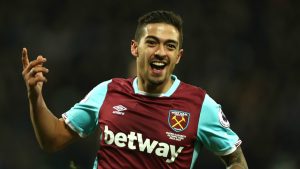 New deals for Manuel Lanzini and Declan Rice will need to wait until West Ham's Premier League status is confirmed.
West Ham wants to tie Rice down to a new deal worth around £25,000 a week. The 19-year-old is currently contacted until 2020 and is believed to be on £10,000 a week despite playing 23 senior appearances this season.
West Ham also wants to secure a new long-term deal with Manuel Lanzini. The 25-year-old Argentina playmaker has two years left on his £35,000-a-week deal, which also has a one-year option to extend. The midfielder could be looking to double his wages up to £70,000 per week to put him on par with other senior players in the first team. A new contract has been mooted for some time and insiders have suggested that frustration has built up with his representatives.
Last weekend West Ham Vice-Chairman Karren Brady admitted that West Ham wages are currently up to £105m per year up from £95m last season and that trend looks set to rise as more of the new TV money goes to players and agents.